Nearly half of children ages 1 to 5 are not eating a daily vegetable and nearly one-third are not eating a daily fruit, according to a new report from the Centers for Disease Control and Prevention.
At the same time, the majority of kids — 57% — in that age range reported drinking at least one added-sugar beverage per week, according to the CDC, which analyzed data from the 2021 National Survey of Children's Health, which included more than 18,000 children.
Current dietary guidelines for kids ages 1 to 5 recommend 1/2 to 2 cups each of vegetables and fruits per day depending on age and caloric needs.
The CDC recommends that children younger than 2 not consume any added sugars.
For children older than 2, the recommendation is that added sugars contribute less than 10% of the total calories consumed.
"When kids are limiting or reducing beverages with added sugar, that can have some significant health impacts," Heather Hamner, lead study author and senior health scientist in the CDC's Division of Nutrition, Physical Activity and Obesity, told ABC News. "Those are linked to cavities and can be linked to later obesity."
The new CDC data on what kids are consuming comes as obesity remains on the rise in the US, including among children.
One in 5 US children and teens are living with obesity, according to the CDC. Obesity is a serious condition that, if left untreated, can lead to long-term health problems.
Children with obesity are at a higher risk for diseases such as Type 2 diabetes, heart disease, obstructive sleep apnea, and depression.
The study found that southern states such as Louisiana and Mississippi had a higher proportion of children who did not eat a daily vegetable but drank a sugary drink weekly compared to northern states such as Vermont and Maine.
The statistics are also varied by race, age and income, according to the study.
The percentage of children who did not eat a daily fruit or vegetable was higher among Black children as well as those living in homes with "limited food sufficiency," and in children ages 2 to 5.
"This is an opportunity for states to think about the programs and the policies that they have and how they can improve those or continue those that support for … early childhood nutrition," Hamner said, adding, "Really thinking about where children live, learn, and play."
Earlier this year, the American Academy of Pediatrics released new guidelines on treating childhood obesity.
The guidelines recommend that children be proactively evaluated and treated for obesity, noting that treatments, including medications and weight loss surgery, can be effective and can help reduce the risk of developing other health conditions.
The AAP also said childhood obesity is a disease with genetic, social and environmental factors — not something caused by individual choices — and that it shouldn't be stigmatized by health care providers.
Pediatricians should screen children with obesity for conditions including type 2 diabetes, heart disease and depression at routine checkups, the AAP says in the new guidelines.
What parents can do to help kids
In its new guidelines, the AAP called for policy changes that could help reduce racial disparities in childhood obesity, including improving access to healthy foods and treatments for groups at greatest risk.
The organization said parents should talk to their child's pediatrician to make any additional health and lifestyle changes, and can model and encourage healthy eating and physical activity for their children.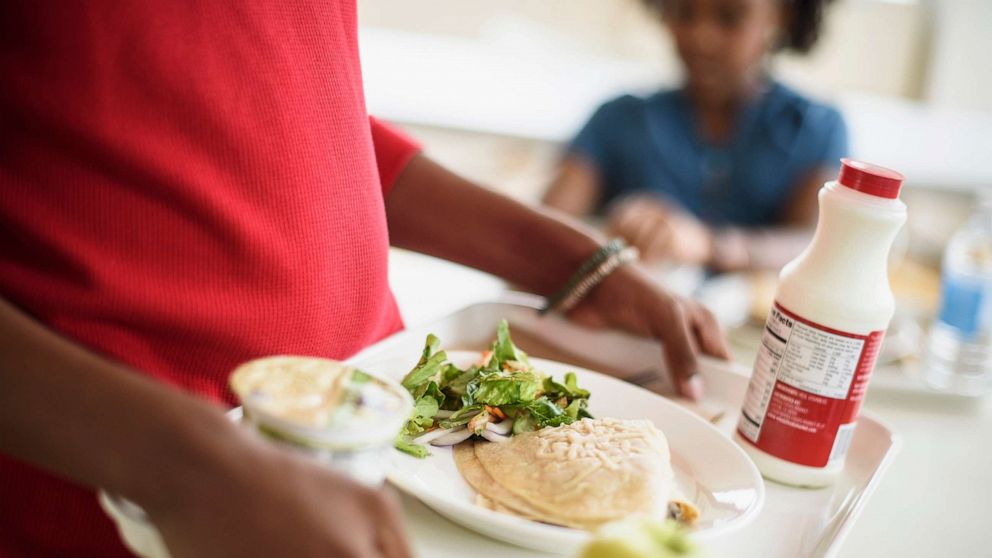 Cooking with children can get them excited about healthy eating. Preparing meals with vegetables, fruits and grains can provide a balanced diet. Children should be encouraged to stay active daily or get involved in sports.
Hamner, the author of the CDC study, said she recommends that parents offer a fruit and a vegetable at every meal and snack, starting from an early age.
Parents should also feel encouraged to continue offering fruits and vegetables, even if kids don't like them at first.
"A lot of times we hear that there's picky eating," she said. "But we also have research that suggests that kids can take up to 10 or more times to try a food before they really learn to accept it."
Hamner said parents should also keep in mind that fresh is not the only option to offer children, explaining, "Frozen and canned vegetables are a good source of nutrients and vitamins."
Describing the importance of giving kids fruits and vegetables, Hamner added, "We know that nutrient-dense foods like fruits and vegetables can help support their growth and development and lay the foundation for later dietary behaviors."
Mallory Rowley is a fourth-year medical student and a member of the ABC News Medical Unit.
Karra Maniér, MD, and Nicole McLean MD, MPH, both members of the ABC News Medical Unit, also contributed to this report.