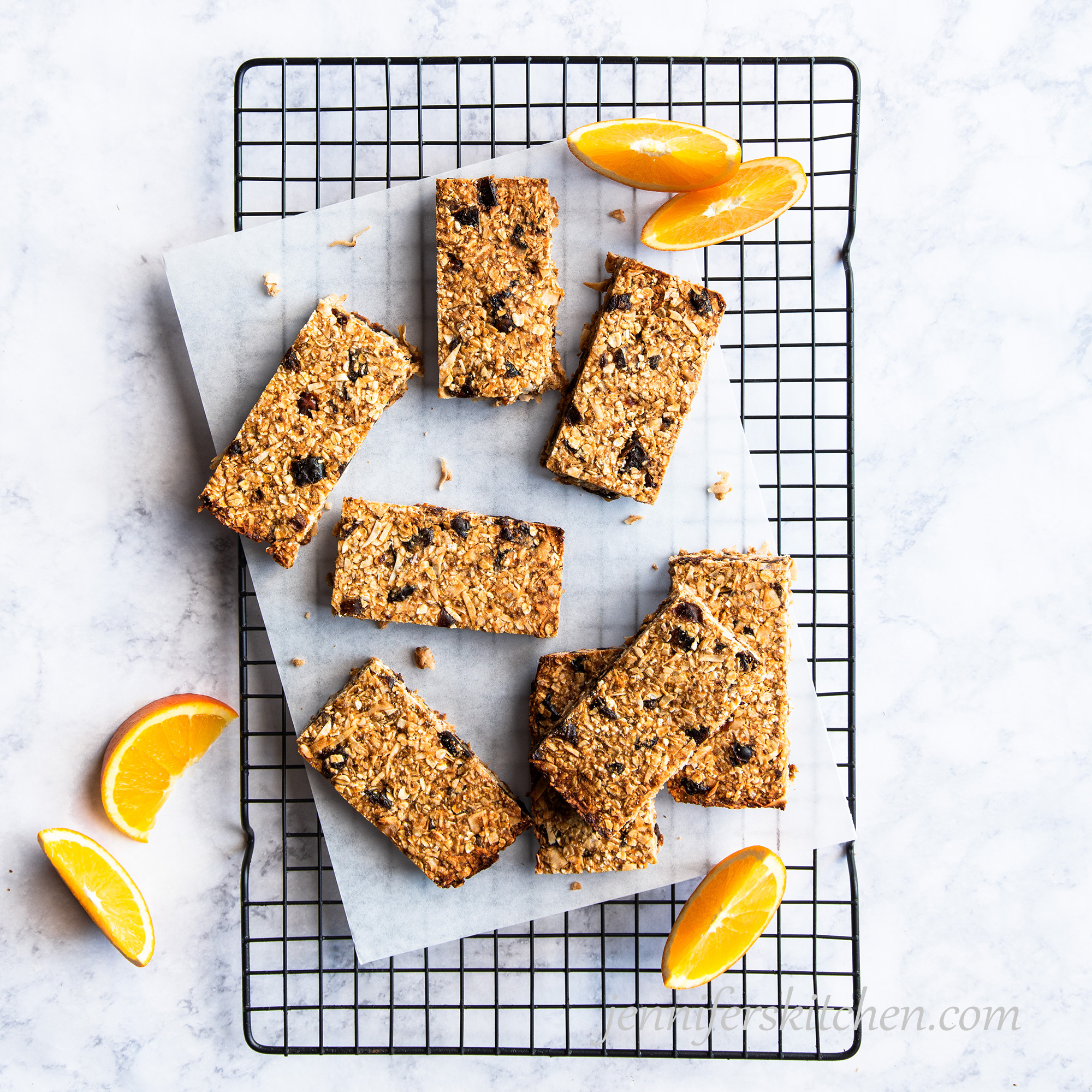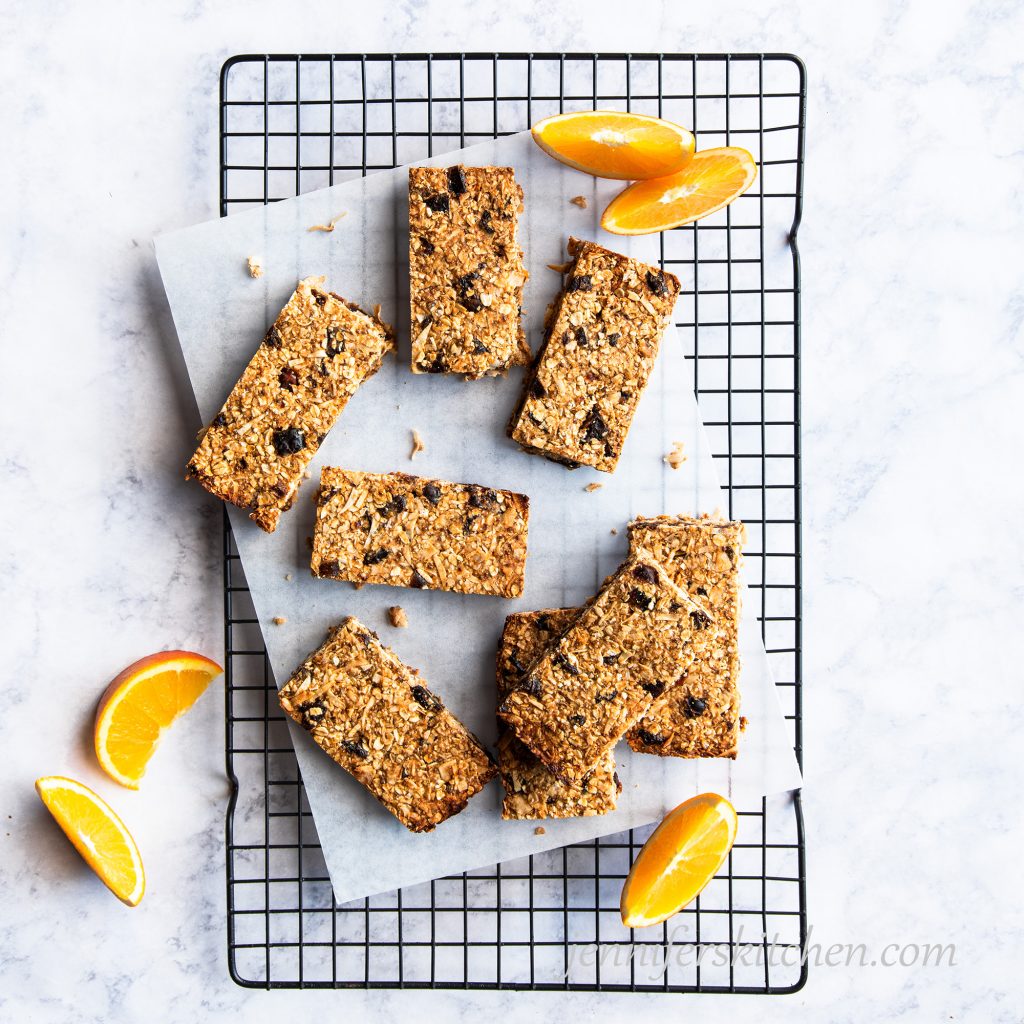 One thing I do not do:
Spend more than 10 minutes in the morning preparing breakfast. When it's breakfast time, I want to eat – not measure, stir, cook, chop, or bake.
That means that make-ahead breakfasts are a regular part of my meals. Preparing breakfast ahead of time means that either my crockpot or my freezer always has something delicious waiting for me in the morning.
Like these Coconut Orange Breakfast Bars.
Naturally sweet, these Coconut Orange Breakfast Bars are packed with both flavor and nutrition. And they're freezer-friendly, so you can have a stash in the freezer for whenever you need a quick breakfast (which, for me, is every morning).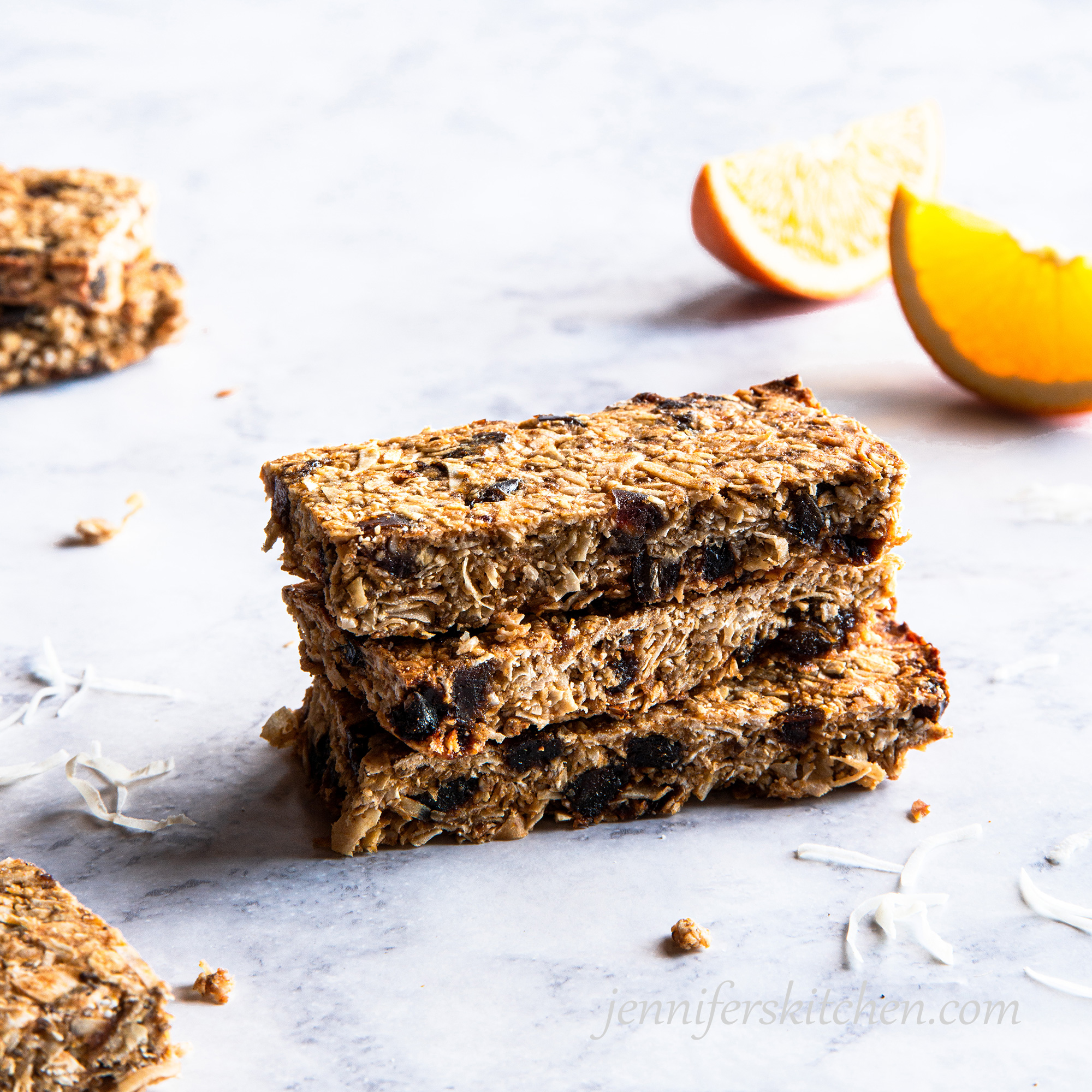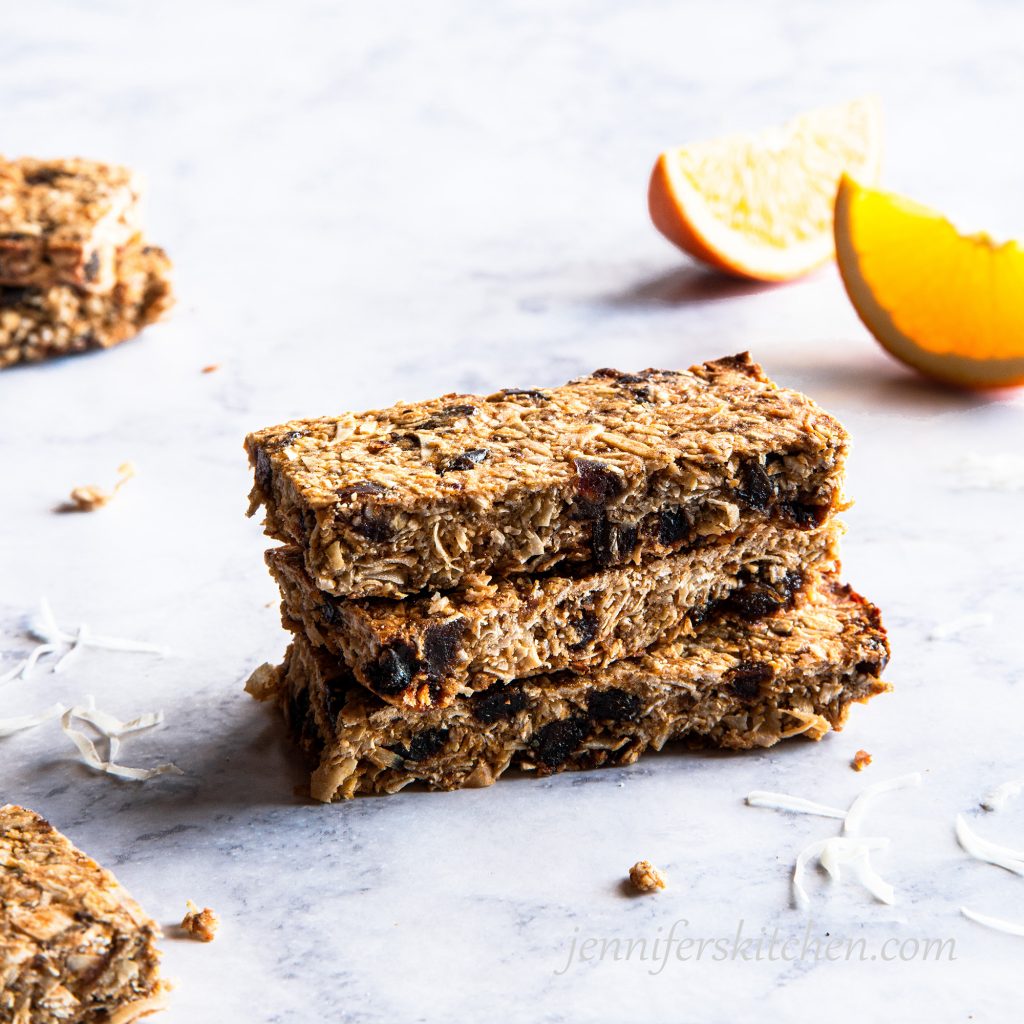 Why You'll Love These Coconut Orange Breakfast Bars
These delicious Coconut Orange Breakfast Bars are:
Made with healthy and wholesome ingredients
These Coconut Orange Breakfast Bars are made with healthy and wholesome ingredients like oats, coconut, flax and chia.
Sugar free
These breakfast bars are naturally sweetened with dates, orange juice, date sugar (see about date sugar below).
Oil-free
The consumption of oil is associated with a number of diseases. These breakfast bars are made from wholesome ingredients and healthy fats
Refined flour free
With no refined flours, these bars are super nutritious.
Quick and easy to prepare
They take only 12 minutes of your time.
An easy, make-ahead breakfast
Make a double batch of these and keep them in your freezer for an easy breakfast anytime.
Wonderful textures
What I love most about these bars is the texture. Slightly chewy, yet soft, and still hearty enough to satisfy.
Gluten free
Make them with gluten-free oats, and these bars are a great gluten-free breakfast option.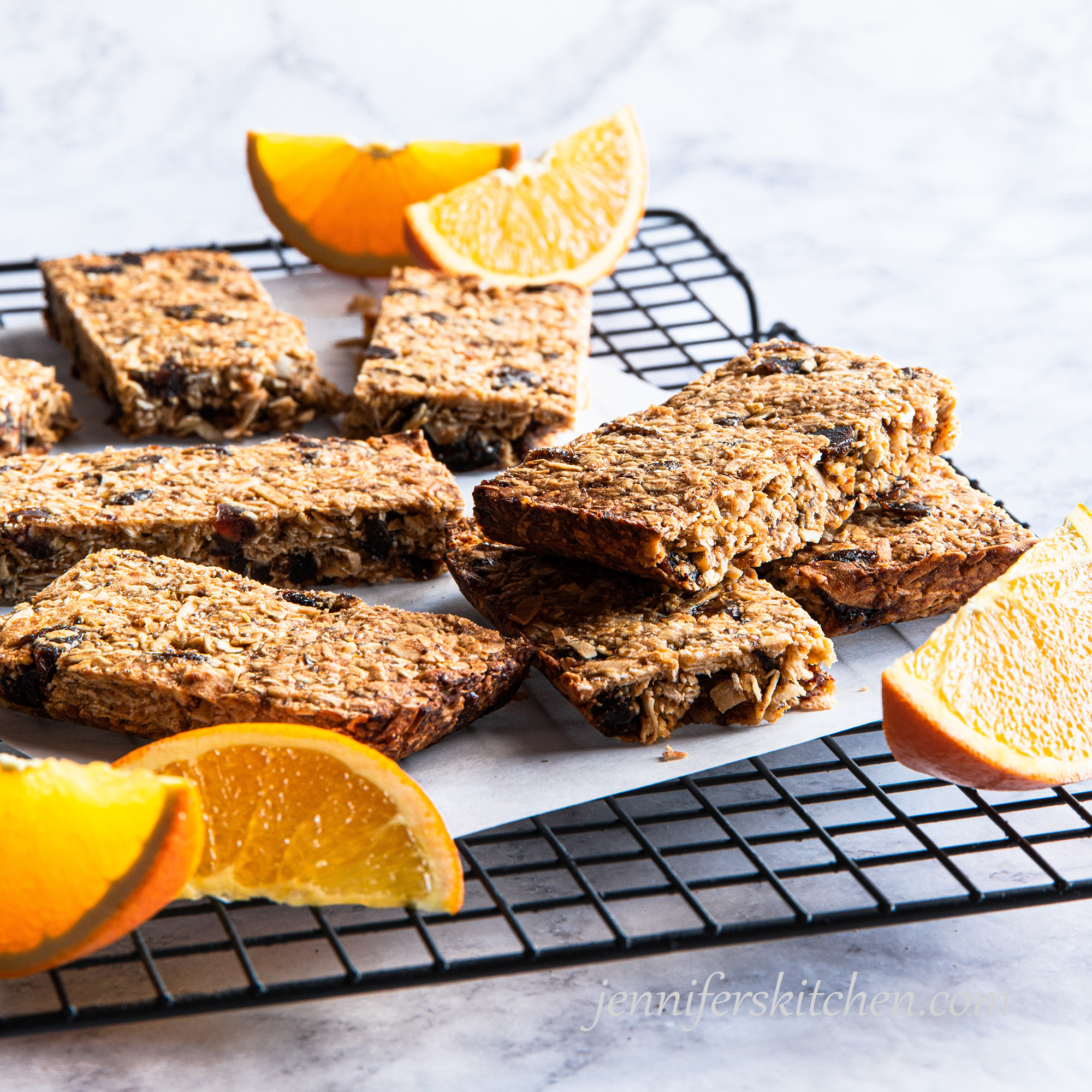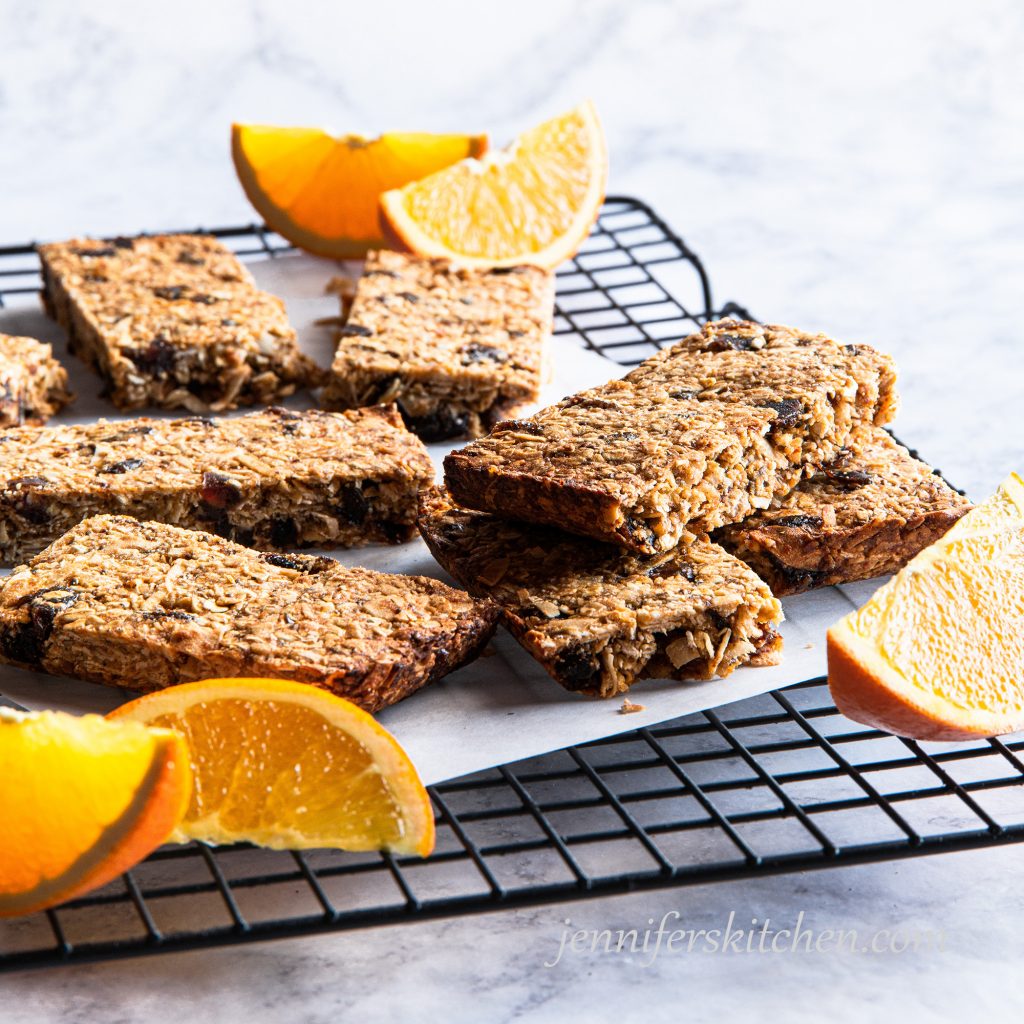 About Date Sugar
What is date sugar?
Date sugar is a whole food that is made from dried dates that have been thoroughly ground. It has not been refined like other sugars which means it still contains all of the fiber and disease-fighting antioxidants of the whole date.
Date sugar is a perfect whole-food sweetener for use in baked goods or hot cereals.
More Healthy Breakfast Recipes
Coconut Orange Breakfast Bars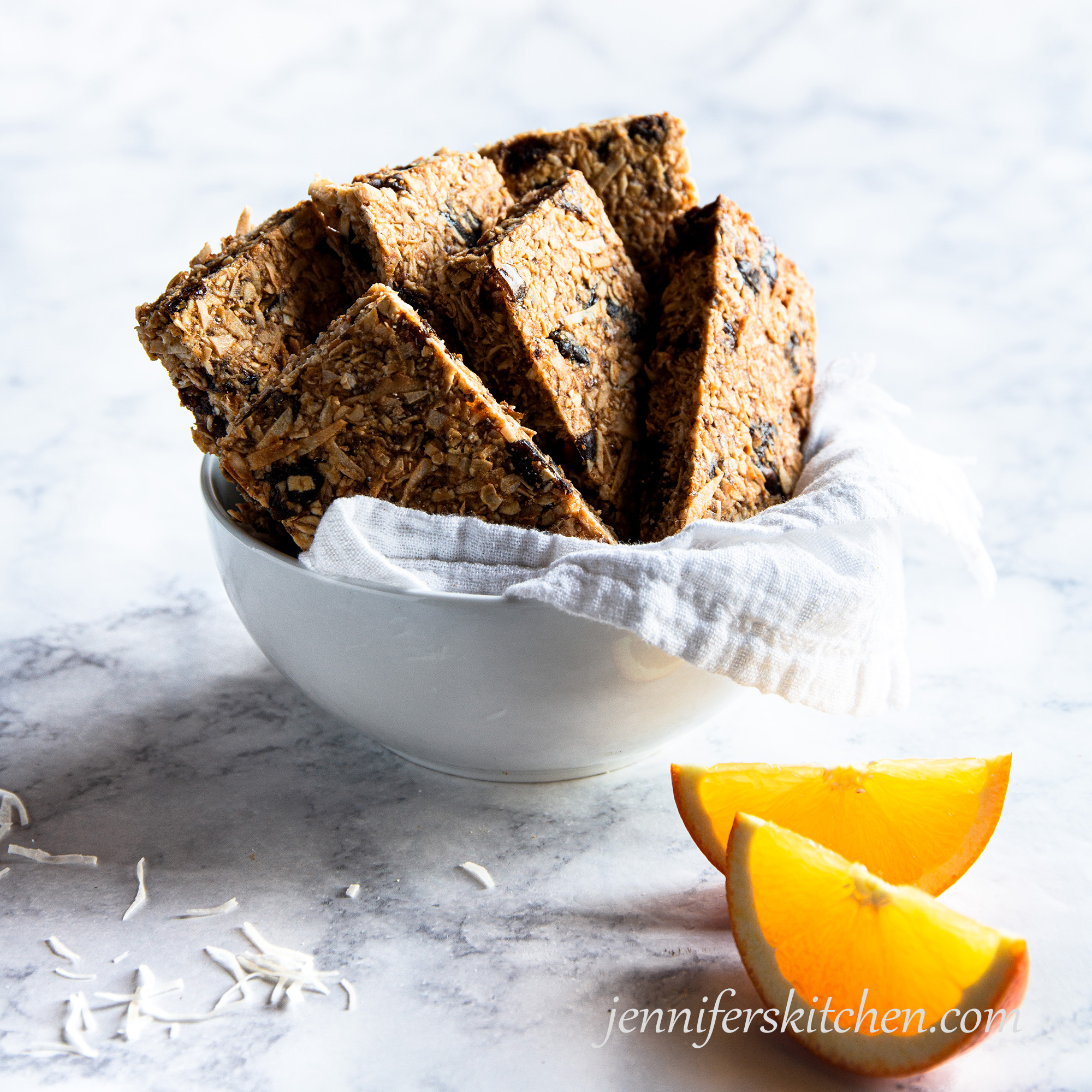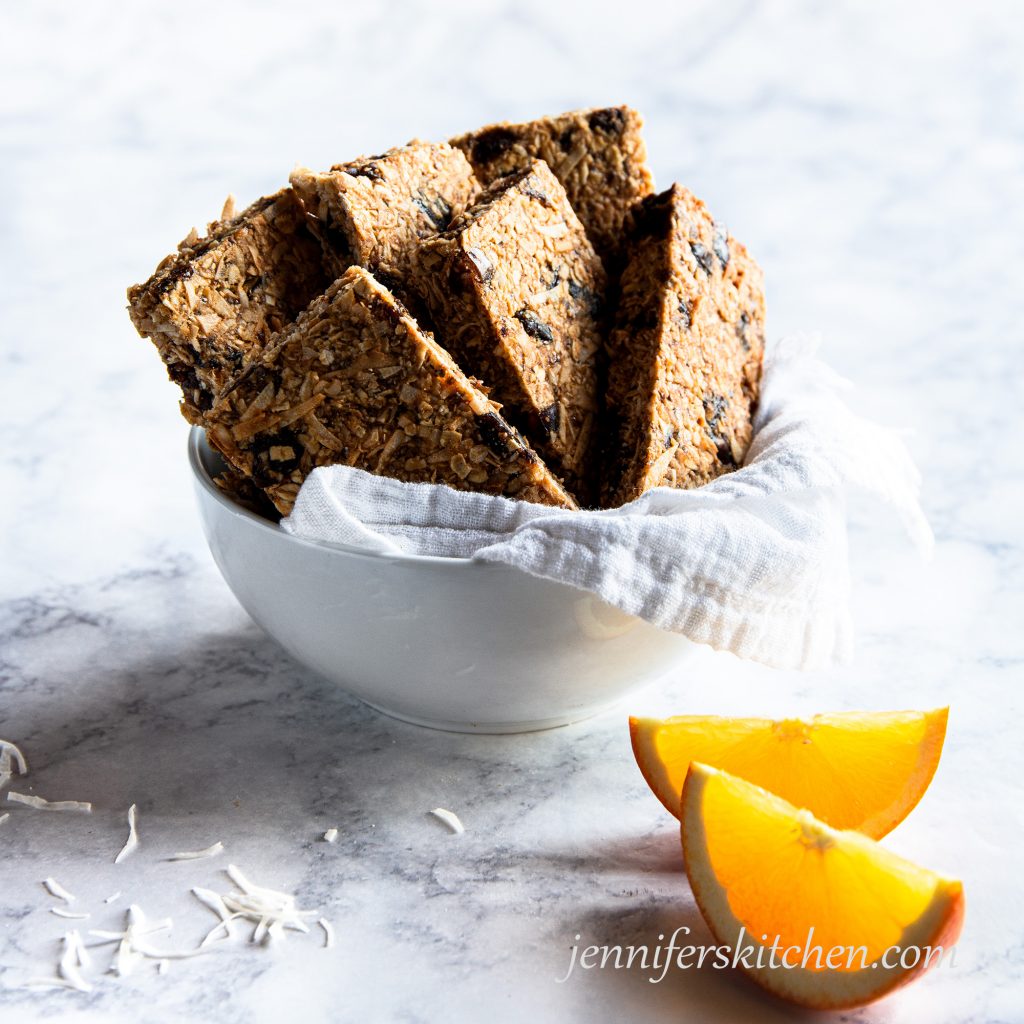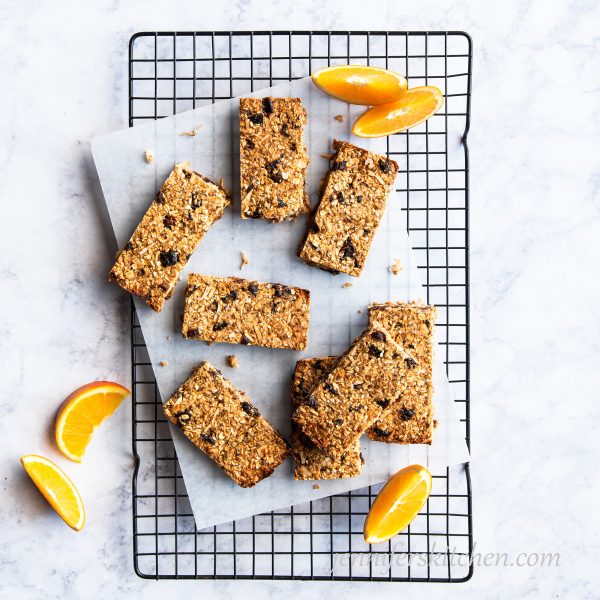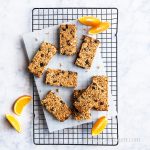 Coconut Orange Breakfast Bars
Enjoy these delicious, whole-grain breakfast bars as part of a healthy breakfast.
All recipes on jenniferskitchen.com are the property of jennifer's kitchen and cannot be republished without written permission.
Preheat the oven to 350°F. Line an 8×8" baking pan with parchment paper.

In a small pan, combine the orange juice concentrate and chia seeds. Cook until hot. Remove from heat and stir in flax meal until no lumps remain.

Stir in cashew (or macadamia or coconut butter), apple sauce, and vanilla. Set aside.

Meanwhile, in a medium bowl mix together the oats, date sugar, salt, shredded coconut and chopped dates.

Pour the flax mixture into the oat mixture and stir well. The mixture will be somewhat dry.

Press mixture into prepared baking pan and flatten out the surface.

Bake for 30 to 32 minutes, or until edges are nicely browned.

Cut into squares while warm.
Make Ahead Instructions: These breakfast bars are freezer friendly. Just wrap the cut bars in parchment paper or plastic wrap and then place in a Ziploc bag and freeze for up to 3 months.
>> One quick request: if you like this recipe, please leave a rating and a comment. Ratings help more people find these healthy recipes!
PrintRecipe
You my also like:
Before you go . . .
No calorie counting. No portion sizes.