FSD Pharma has completed dosing in the first group of healthy volunteers enrolled in its Phase 1 clinical trial testing Lucid-21-302, an oral medication candidate for all types of multiple sclerosis (MS).
The medication, also known as Lucid-MS, was first given to a sentinel subject — one individual in advance of the first full group — to determine if there might be any unexpected side effects that might harm participants all dosed at the same time. The group now tested consisted of eight healthy volunteers, six of whom received the lowest dose of the medication and two who were given a placebo.
Based on the data obtained with this group, the trial's safety review committee has recommended that the second group of volunteers begins dosing.
"Our clinical development team and international advisory committee are delighted at the progress of this milestone and completing dosing the first cohort," Lakshmi Kotra, CEO of Lucid Psycheceuticals, the subsidiary of FSD that's running the trial, said in an FSD press release.
"The safety review committee has recommended to move forward with the next cohort of dosing, which we are thrilled to say is expected to commence in the next few days," Kotra added.
Recommended Reading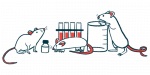 Testing of healthy volunteer groups will inform the design of future clinical trials
In MS, immune cells enter the brain and the spinal cord and attack the myelin coating that sheathes and protects nerve cells. Without myelin, nerve cell communication becomes less effective, which results in a number of symptoms, from trouble moving to fatigue and pain.
A range of disease-modifying medications, each designed to slow disease progression and reduce relapse rates in MS, are available to patients. But these mostly work by reducing immune system responses, which can also impact the body's ability to fight infections and other diseases.
Thus, attention has been turning to other types of medications that can leave immune cells unharmed.
Lucid-MS is an oral compound designed to prevent, or even repair, the ongoing damage to the myelin sheath without impacting the immune system. Earlier work showed the compound was able to restore motor function in a mouse model of MS.
The safety review committee has recommended to move forward with the next dosing cohort, which we are thrilled to say is expected to commence in the next few days.
The Phase 1 trial (NCT05821387) is now testing the safety, tolerability, and pharmacokinetics of single and multiple ascending doses of Lucid-MS in 56 healthy adults. Pharmacokinetics refers to how a medication moves into, through, and out of the body. The volunteers in the ongoing study range in age from 18 to 60.
Recruitment is ongoing at a single study site in Ontario, Canada. In part A, there will be five groups of patients who will receive a single dose of Lucid-MS, each with a dose higher than the group before.
In the second part, two other groups will be given multiple doses of Lucid-MS, also at increasing doses. In both parts, each group will include a total of eight participants, who will be randomly assigned to Lucid-MS (six individuals) or a placebo (two participants).
In one of the single-dose groups, participants will receive the medication with food to assess the effect of eating on the pharmacokinetics of Lucid-MS. All eight participants in this group will receive the compound.
The study, slated for completion in August, is expected to inform the design of future clinical trials in MS patients.