Rebecca Lewis

Real Housewives of Orange County star Heather Dubrow has revealed that her youngest child has come out as transgender

Andy Cohen is among the many celebrities to pay tribute to Real Housewives of Orange County star Heather Dubrow, who has revealed that her youngest child has come out as transgender.
Heather, 54, who is married to Terry Dubrow of Botched fame, shared the news on social media, telling her followers that her son is now called Ace and that she is "so proud" to be his mother.
Heather shared this picture with fans
"It's International sons day! We love you, our youngest son, Ace. Our job as parents is to give our children a safe and supportive environment so they can grow up as healthy, happy, confident, independent humans," she wrote.
"Since Ace is a 12 year old child, with a long life ahead of him – we will let him tell his own story someday if he chooses to do so. All we can say is Ace, we love you so much and we are proud to be your parents. Your brothers and sisters love and support you too."
"Thank you all for spreading the love," commented Terry, 64, while Andy shared a series of clapping emojis, and Lance Bass wrote: "Acing the mom thing."
Former RHOJ star Alexis Bellino added: "We love you Ace!!!!!!"
Heather and Terry have four children
"Best. Mom. Ever. There is no greater gift you can give to your child then loving them for exactly who they are," commented one fan as another follower shared: "Ace and the gang are lucky to have you as their mom! "
Heather and Terry are also parents to 19–year-old twins Nick and Max, and daughter Kat, 16.
"We've got four kids, they are different genders, different sexualities, and all at interesting places in their lives, figuring out who they are and where they belong as humans," said the Bravo star in February 2022 after sharing that her daughter Max was bisexual, and Kat was a lesbian.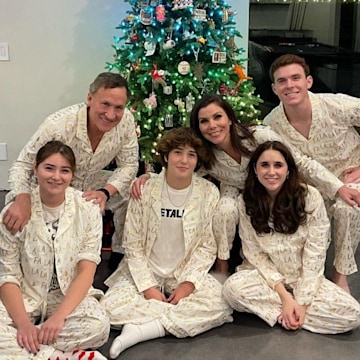 Heather and Terry with their four children
Ace is "going through a lot of self-exploration right now," Terry told Peoplebefore Heather shared that "everyone always looked at [Ace] because [Ace] dresses 'like a boy', which, I hate those kinds of labels".
"It's clothing. Clothing should just be clothing at this point," she insisted.
Read more HELLO! US stories here
Like this story? Sign up for our HELLO! Mail newsletter to get other stories like this delivered straight to your inbox.