Let me be very clear. I do not like beets. I've spent over fifty years disliking beets.
I've tried them boiled (gag-inducing), roasted (almost tolerable, but no), raw (the additional chewing required just prolongs the misery), and picked (where's the bathroom?).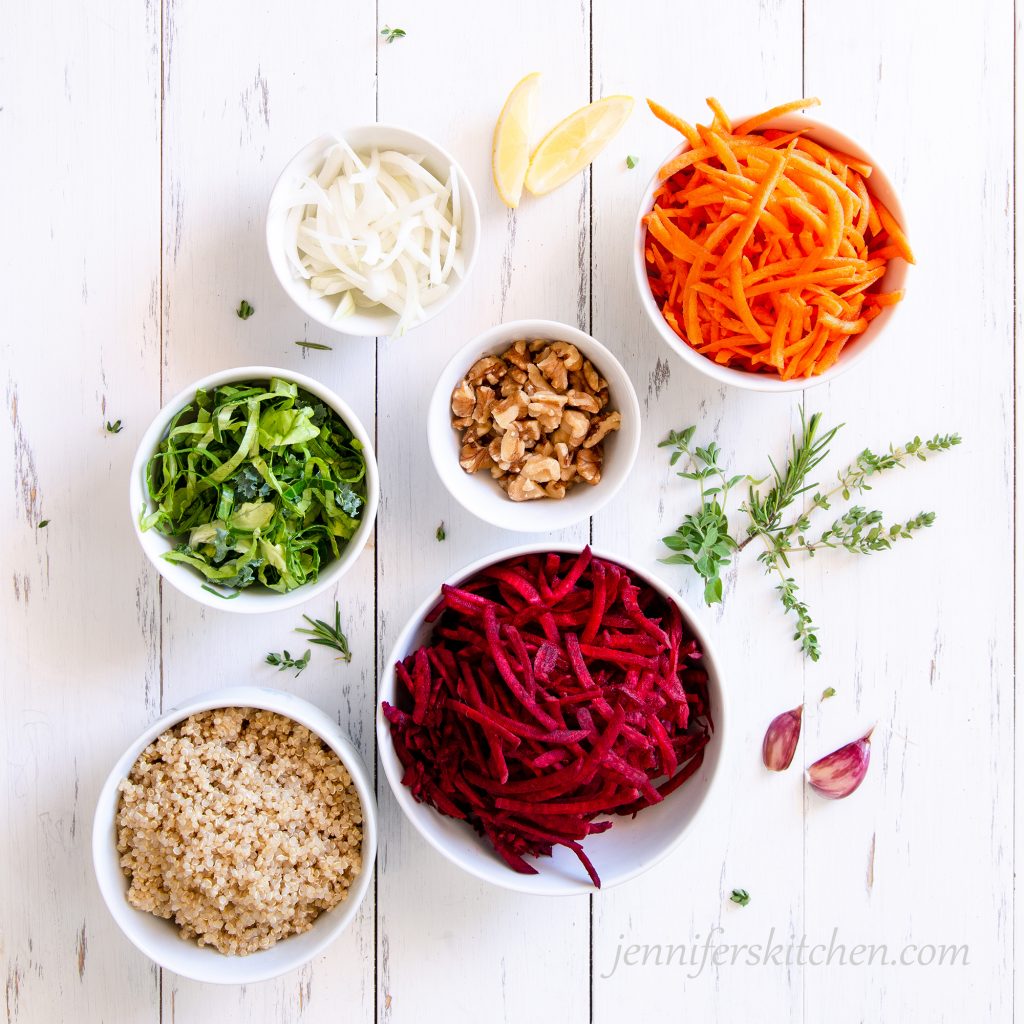 To me, beets taste like garden dirt laced with a little bit of sugar. Interestingly, there is validity to that perception. Beets contain a naturally-occurring compound called geosmin, and geosmin gives beets their dirt-like . . . er. . . earthy flavour.
Some people like this earthy flavor.
I'm not one of them.
Just as interesting – at least to me since helping people eat healthy foods that they don't naturally love is a big part of my job – is the fact that our taste buds can actually become more and more tolerant to this earthy flavor the more we are exposed to it.
Hard to believe, but true.
So, if we beet-haters can find ways to get more beets into our diet without the unpleasant effect on our taste buds (see the 2nd paragraph above), then after a while we may find that we actually start to like beets.
And this Quinoa Beet Salad is out to do just that. With outstanding finesse.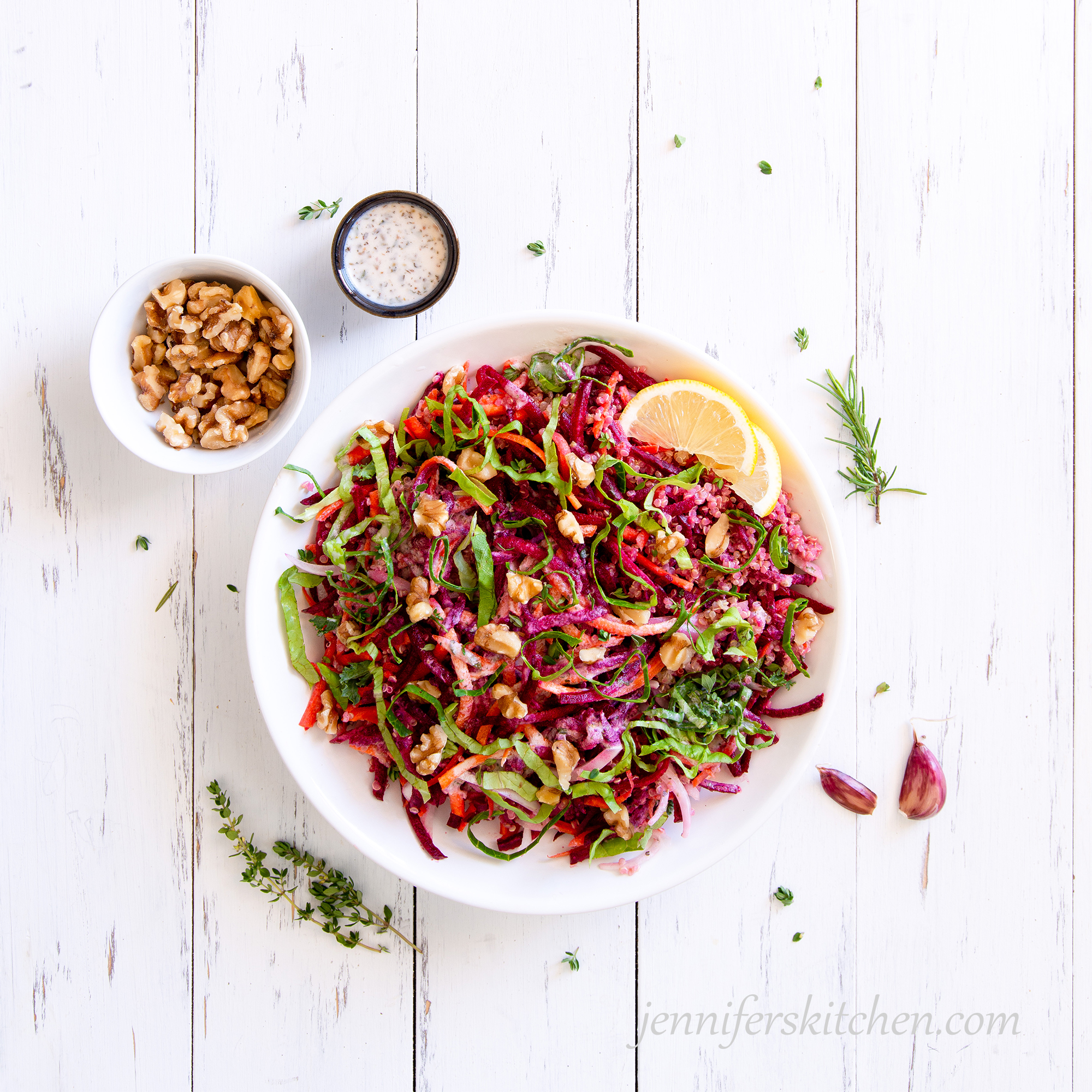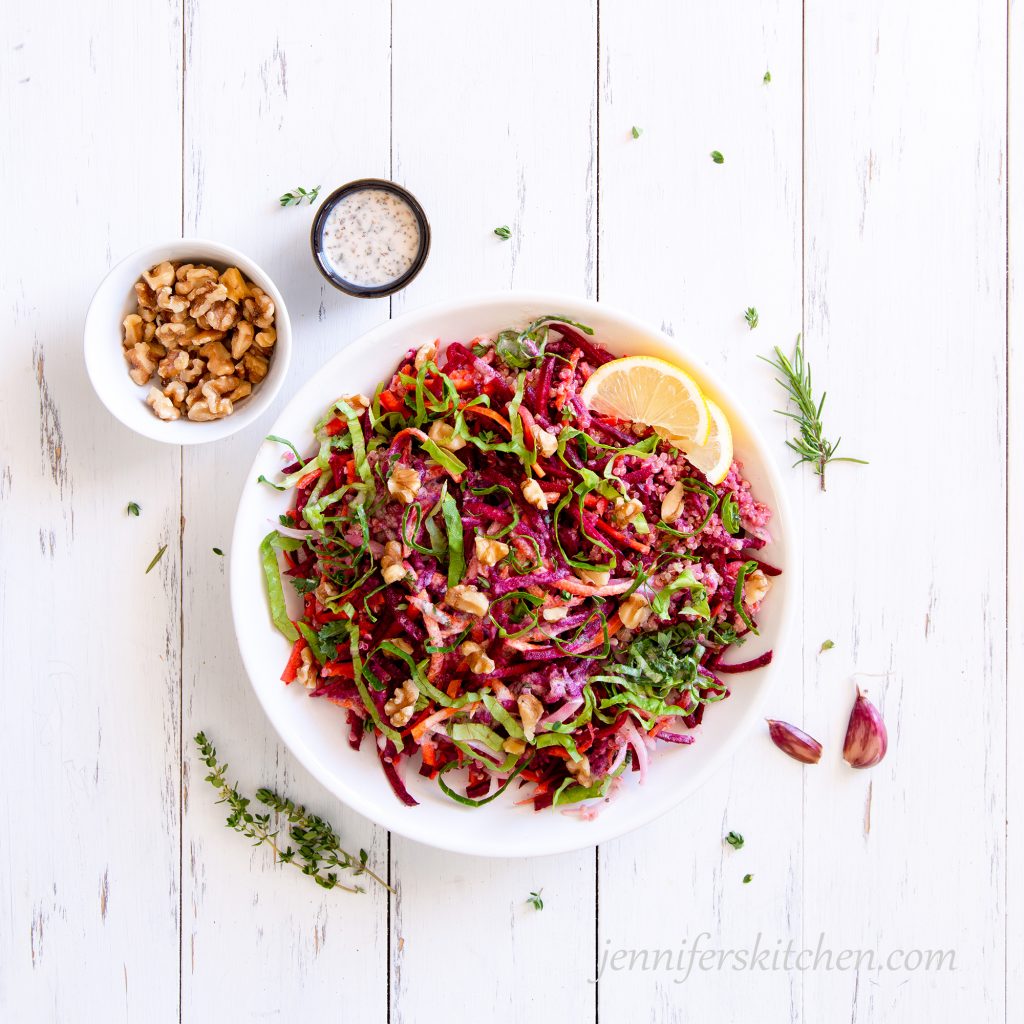 This beautiful salad is a colorful mixture of carrots, quinoa, leafy greens, and beets, tossed in a tangy dressing of walnuts, lemon, onion, and just the right seasonings. For me, the tang of the dressing works wonders at transforming that earthy flavor into pure deliciousness, and I found myself actually taking seconds of this beautiful beet salad.
I've discovered that many people who are sure they hate beets actually love this salad.
"I can't believe I just ate raw beets and actually liked them!"
Health Benefits of Beets
Low in calories, high in fiber, rich in iron and antioxidants, beets are blazing with nutrition, color and flavor!
Studies have shown that beets can protect against cancer, help reduce blood pressure, improve endurance performance, and increase blood flow to the brain.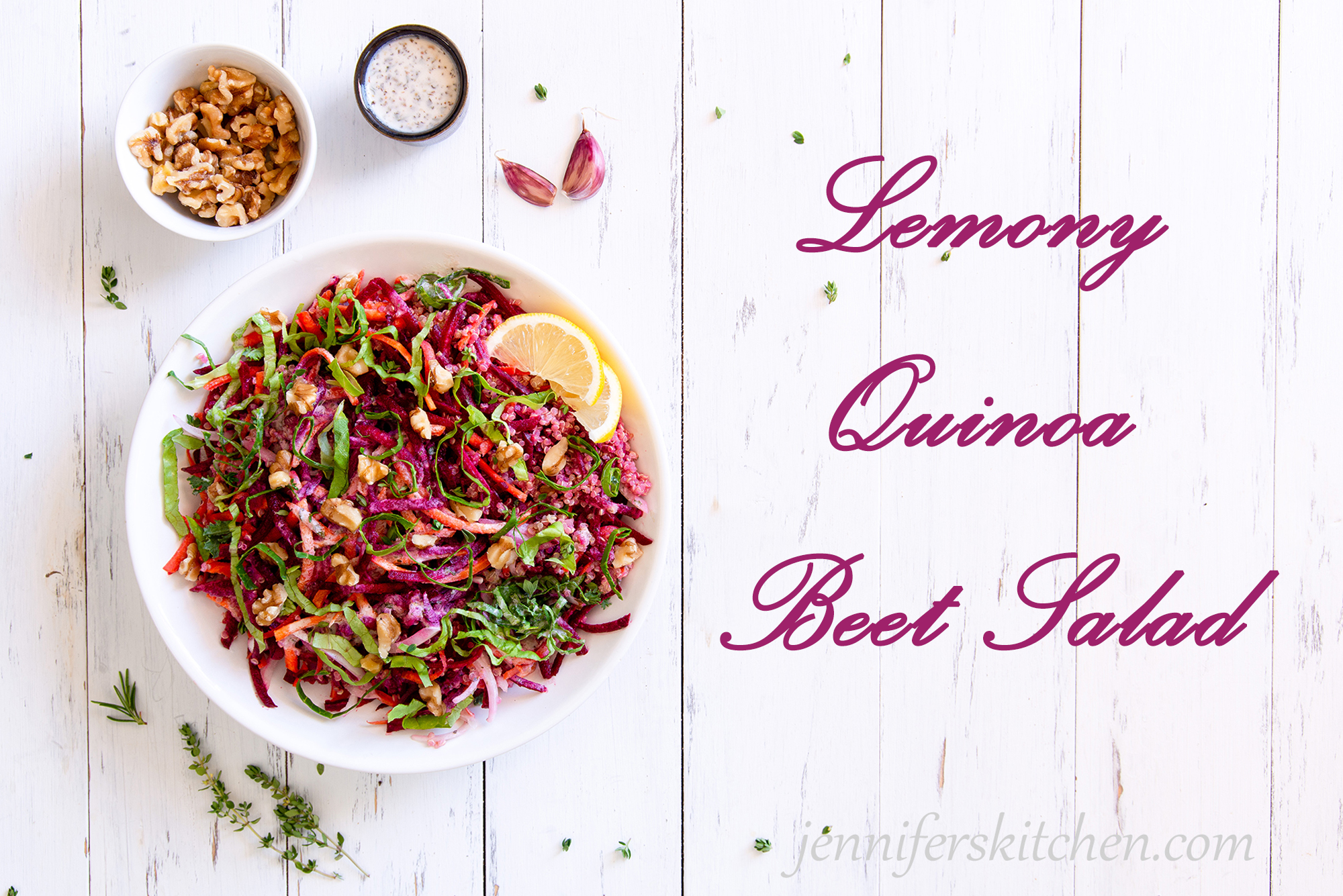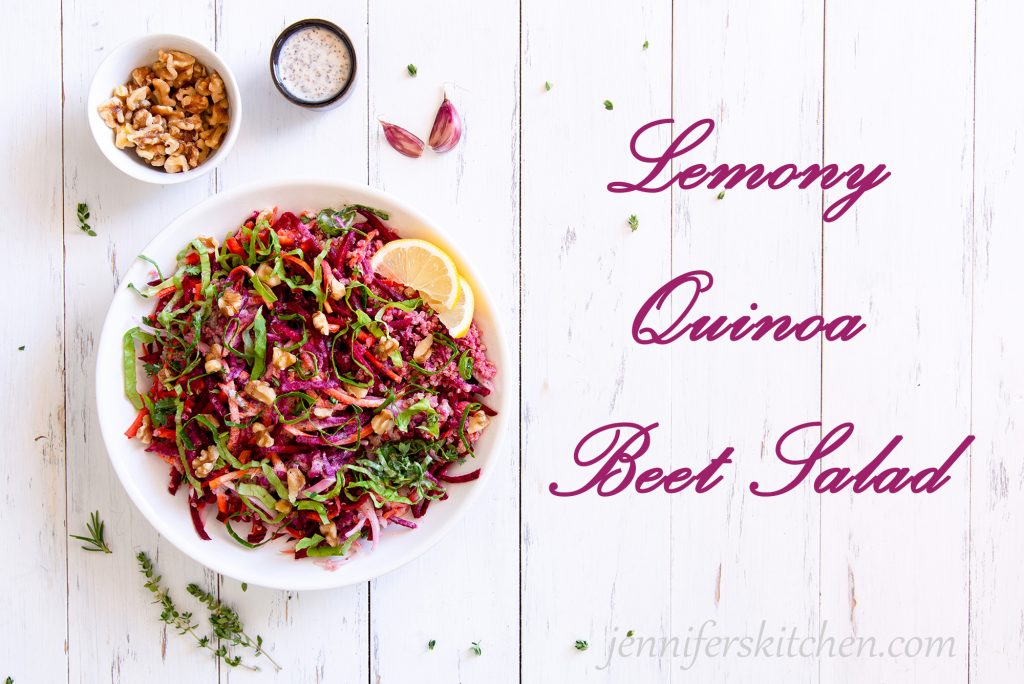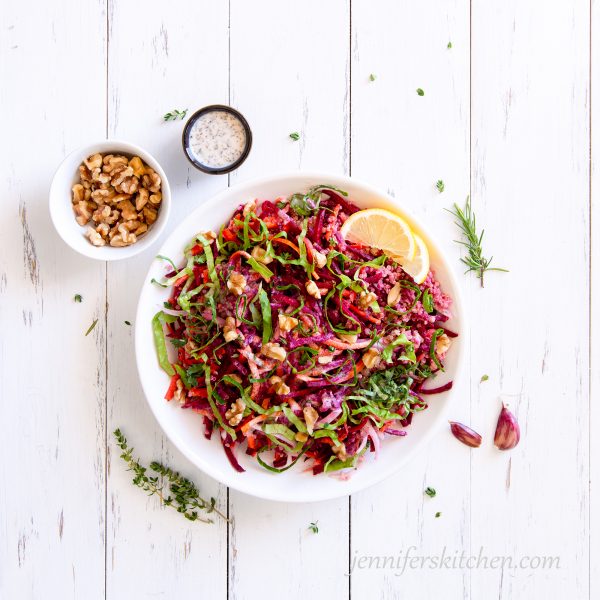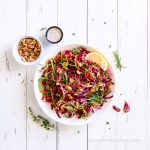 Lemony Quinoa Beet Salad
This delicious salad is served with crusty bread to soak up the amazing dressing left over on your plate when you're done.
All recipes on jenniferskitchen.com are the property of jennifer's kitchen and cannot be republished without written permission.
DRESSINGS
3/4

cup

lemon juice

1/4

cup

raw walnuts

1/2

medium

fresh onions

1

clove

garlic

1 1/4

teaspoons

salt

2

tablespoons

water

1/2

teaspoons

dried parsley

1/2

teaspoons

dried basil

1/4

teaspoons

dried oregano

1

teaspoons

apple juice concentrate

–

optional
SALAD
1 1/2

cups

cooked quinoa

–

(See note for how to cook quinoa.)

1

raw carrots

2

medium

raw beets

–

(or 3 small beets; 3 cups shredded)

1/4

cup

finely sliced ​​onions

2/3

cup

shredded raw greens

–

(arugula, spinach, lettuce, cress, and/or kale)

1/3

cup

chopped raw walnuts
GARNISH
1

sprig

fresh rosemary

2

sprigs

fresh thyme

4

lemon wedges

–

optional
Prepare dressings:
Place lemon juice, walnuts, onion, garlic and salt in a blender and blend until very smooth.

Add water and seasonings and pulse once or twice to combine. Set aside.
Prepare Salad:
Place quinoa and place in a mixing bowl.

(If your quinoa is freshly cooked and still warm, you don't need to let it cool before adding to the mixing bowl. It can be added while still warm.)

Peel and shred carrots and add quinoa. (I use the large shredding blade on my food processor to shred the vegetables for this salad.)

Peel and shred beets and add to bowl.

Cut onion into very thin slices and add to bowl.

Pour about half of the dressing over the top of the salad and mix. Reserve remaining dressing to add to salad later if desired. You may or may not use all the dressings, depending on your taste.

If the quinoa is hot when added, chill it for at least 30 minutes. Otherwise, skip this step; Salad can be served immediately or stored in the refrigerator for up to 3 days before serving.

Before serving, finely chop greens and sprinkle over salad along with chopped walnuts.

Garnish with fresh thyme leaves, chopped rosemary leaves, and lemon wedges.
To cook quinoa:
Bring 2/3 cup water to boil in a medium saucepan.
Add 1/3 cup uncooked quinoa to boiling water, cover, return to boil, and then reduce heat.
Simmer for 20 minutes or until all the water is absorbed. (Cooking time will vary depending on how hot your stove burner is.)
Remove from heat and fluff with fork.
Prep Time:
I use my food processor (the large shredding blade) to shred the vegetables for this salad. Saves time and shredded knuckles. If you shred by hand, plan for a few extra minutes in prep time.

Variation:
If you like more greens in your salad, serve on a bed of greens.
>> One quick request: if you like this recipe, please leave a rating and a comment. Ratings help more people find these healthy recipes!
PrintRecipe
You my also like:
Before you go . . .
No calorie counting. No portion sizes.